Web Design/Development
Let us enhance your user experience 
Webkey Digital is a leading web development company that provides a variety of website design services for small, medium, and large enterprises. To create user-engaging business websites and dynamic web applications, we have a team of proficient website developers and digital marketing experts that uses cutting-edge technologies and work consistently to increase customer reach. Join hands with Webkey Digital and pave your path towards success.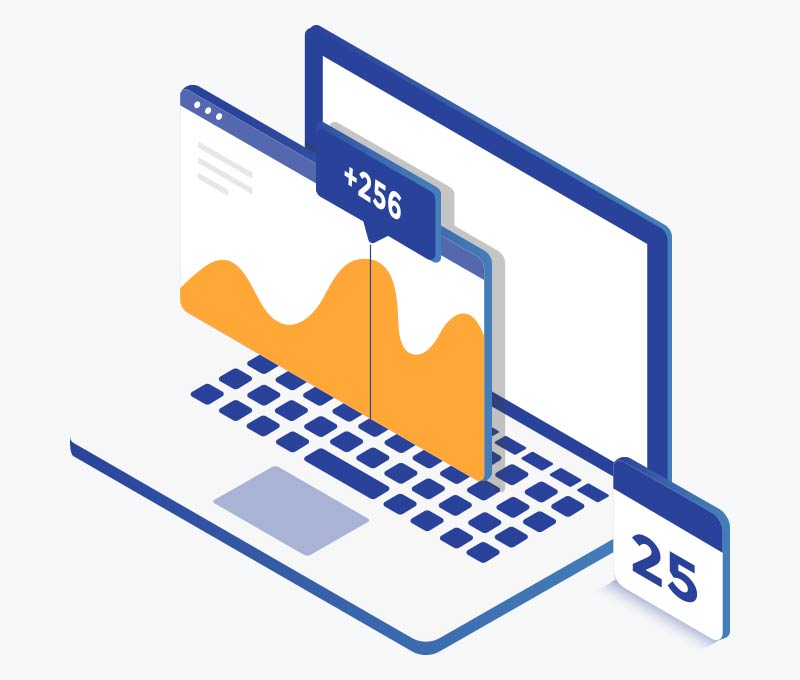 Complete Web Development Services 
Contrary to the conventional approach where a customer needs to select a template from a wide collection to design a website, Webkey Digital serves you with the latest solution. We built customized websites that not only fulfill the clients' requirements but also represent an actual snapshot of their businesses. We believe to develop motivating website designs rather than just delivering a creative display. 
We built SEO-friendly and mobile-responsive websites that are customized as per our clients' requirements. We assure you to provide comprehensive services in designing and developing that enhance the online presence of your business. At Webkey Digital, we have a team of dedicated professionals that understands your business objective, consumer psychology, and works with tested and researched best practices. 
What do website design services from Webkey include?
 With our wide range of web development services, you can select the most appropriate ones that are crucial for your business. In the present digital world, your site is the main communication customers have with your business. That is the reason right around 95 percent of a client's initial introduction identifies with website design. 


Our Web Development Process – We Ensure To Create Remarkable Experience 
With every new project, we provide customized solutions as per the requirement of our clients. However, we follow a precise approach to increase the success rates. Our transparent approach has helped thousands of our clients to work with a fully functional website. At Webkey Digital, we follow the below approach for providing world-class Website Development Services – 
What Our Clients Say
Matt pickup, UK
Thank you Webkey Digital for giving such good SEO services to us and our clients. Our work has really helped us a lot, we have a great ROI, and our positioning has helped us improve every passing month.
Lesli, Cameroon
Before hiring Webkey Digital to redesign, SEO, and PPC our sites, we really dropped off the guide in Google because of the Panda and Penguin refreshes. Presently our sites are #1 for a large number of our keywords and flourishing with traffic.
Aarron Nezi, UK
Webkey Digital is one of the best resources for any SEO needs of any company. It has been a great avenue to accumulate important data concerning boosting SEO rankings, and building links, and all the digital marketing needs.
Roubik M, USA
Working with Webkey Digital is a great experience, very quickly we saw a profit from our investment. I would recommend Webkey Digital to anybody hoping to improve their SEO rankings.
Dara Nazery, USA
Our SEO project started under 6 months back thus far we've been very happy with the nature of services and systematic skill from your company. Webkey Digital truly gives us the feeling that they care about the work they would and consistently like to ensure that we are happy with the result.
Tony M, UK
I would suggest Webkey Digital, to anybody inspired by SEO and a web page redesign project! They've been a joy to work with. We reliably get good results on our webpage and I look forward to a long-standing relationship with Webkey Digital.
AOY Holding, Israel
I have been working with Webkey Digital for as long as 3 years and have had incredible experiences with your services. They're specialists in digital marketing services and they really become acquainted with your specific brand.
Linda c, USA
Webkey Digital is a reputed company, They do everything right, from client care to product integrity, and the investment with them is definitely justified even despite the return; the amount of phone and email traffic we've been accepting from expected clients.
Ready to speak with a marketing expert? Give us a ring
Leading Digital Marketing Agency
700+ Websites Launched
$100M+ Client Revenue Generated